It might be late spring, but the snow's pretty good in northern New Mexico...if you're willing to work for it.
Really
work for it.
The Truchas Peaks don't get skied that often. Rumors of hostile locals, tricky backwoods roads, a long and difficult trail in, and pure remoteness keep the traffic down. But they've been on my list for years. Conditions and crew came together and here's the TR.
Hugh and Matt and I met at the Sooper Wal-Mart parking lot in Española fairly early. We would have made departure a little earlier except I fell asleep watching the parking lot sweeper while I was waiting for them and they didn't recognize my car, so they waited 20 feet away. But we finally got all loaded up and headed up.
The road into the Truchas trail is confusing and mysterious. Hugh had written mile-by-mile directions, otherwise we'd still be looking for the trailhead among the totally confusing web of logging roads. We ran into a logistical problem when we found a key road had been recently washed out 2.5 miles from the trailhead (the trail itself is a bit over 4.5 miles long). We looked for a work-around but ended up shouldering our packs and skis and hoofing it.
The trail in was an interesting mix of swamp, rotting snowbanks and dense deadfall. For all that, it went fairly quickly and before long we broke out of the woods and found ourselves in the high country. Hugh and Matt check it out:
Since it's spring, we still had a few logistical problems that needed to be worked out:
But before too long we found ourselves at the promised land. Not bad for New Mexico on the day before June - we took the main chute on the lookers' left (anyone know if the tighter chute just to lookers' right of the big left chute with that big dihedral rock in it has been skied?):
The usual climb ensued:
I don't think Hugh was puking here, but I'm not sure:
We summited Middle Truchas and took in the views of the Sangre de Cristos, Rio Grande valley and the Great Plains, then got down to bidness. Hugh drops in:
And shows some of his Level 3 tele instructor steeze: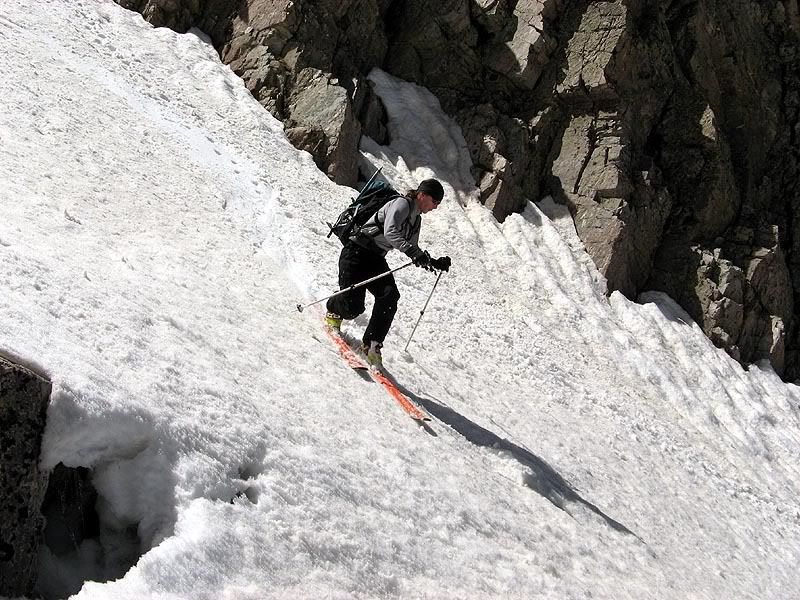 Matt bombs it: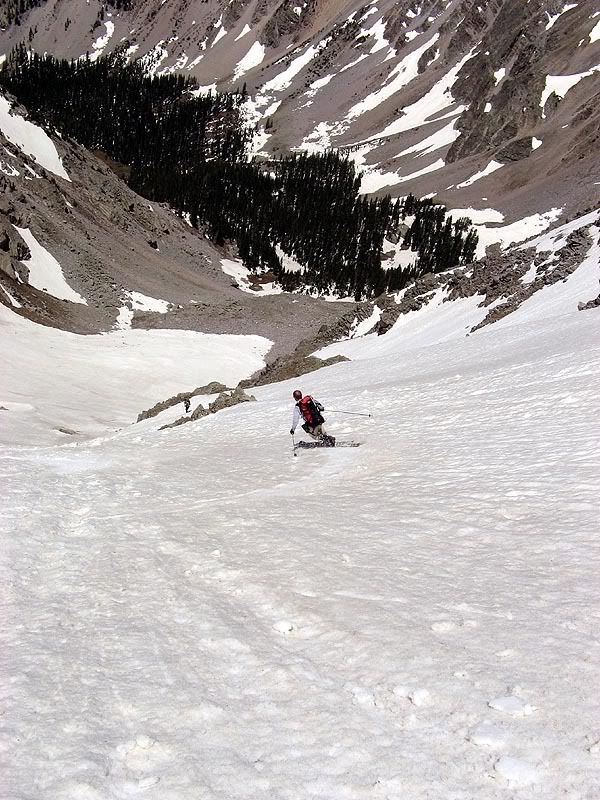 We all sought out our own killer line...: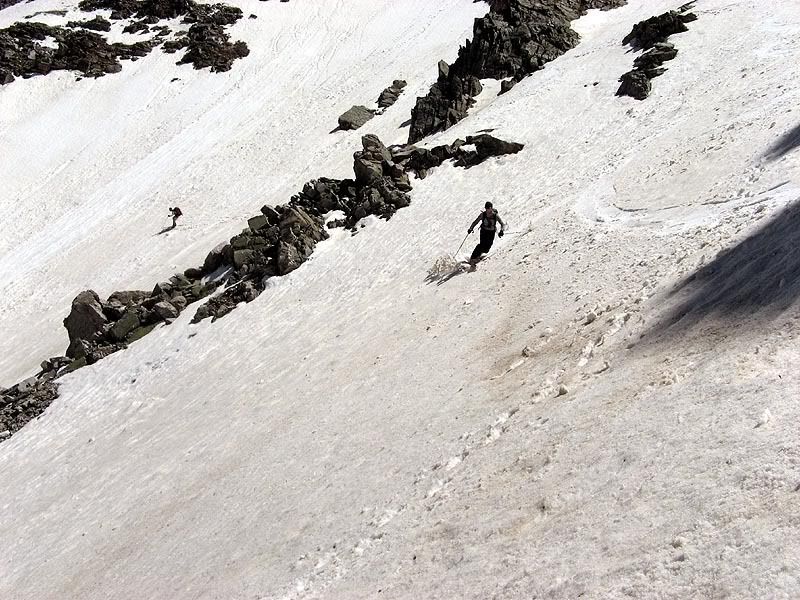 ...and check out Hugh styling:
More Matt shreddage:
And the aftermath. I only regret that we didn't try that tighter chute in the middle of the picture:
Then all that was left was to have a snack and take a significantly heinous 7 mile stroll back out on a fully pleasant early summer evening. It looks nice here, but I'm omitting the deep rotted snow wallowing and the cliffing out at Quemado Falls: